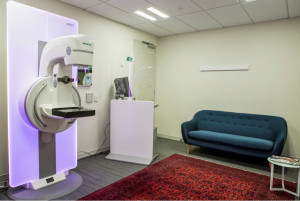 Mammogram
The first stage of breast screening is a mammogram.
A mammogram is an x-ray of the breast tissue and will only be performed on patients above 40 years of age, or if required those with a doctors referral.
3D Digital Mammography called Tomosynthesis will be performed along side your usual mammogram.
Screening mammography is the only modality shown to reduce breast cancer deaths in all age groups from 40 years and above.
Read more about Mammography here
After your mammogram, you will return to the waiting area while your x-rays will be reviewed onsite by a radiologist. Your previous x-rays will be compared to your new ones.